Supporting you every step of the way
From day one, our franchisees receive an incredible amount of support. We make it our business to make your business a success!
All our franchisees attend a 5 day residential training course held at our dedicated training facility in Plymouth. You'll be guided through health and safety issues and learn how to fit our full range of ladders, hatches and boarding and of course learn how to use the comprehensive set of tools you receive as part of the franchise package.
You'll also be trained on how to use our amazing bespoke admin system. This system produces all your admin documents from quotes to invoice and provides key customer data. It also links into our accounting package saving time that you can spend on doing the hands on work. This system has literally revolutionised the way our business operates. In the early days we spent hours typing up quotes, orders and invoices quite often until very late at night. Now, quotes can be produced and emailed to our customers within minutes.
Not only do we take away the hassle of producing your admin paperwork you will have a dedicated Accountant who will produce all your personal, vat and tax returns. Your dedicated Accountant will tax planning support and even set up your new company.
By the end of the week you'll drive away fully prepared to run your own successful loft storage business including all your marketing materials and business stationery. operations manual, installation manuals and much more – plus, behind the scenes, your website and social media pages will be set up ready to go.
However, we don't just leave it there. Regardless of the amount of training you receive, the first couple of jobs you do can be daunting. That's why we follow up the training with 2 days operational on site support so we can observe, advise or just give you moral support as you start your journey.
Every franchisee gets a dedicated operational support director who they can call on for support and advice should they need it. Every franchisee is different and will have different support needs. Some will need more help on the installation side whilst others may need more admin or marketing help. Your dedicated support manager is there to help with whatever you need.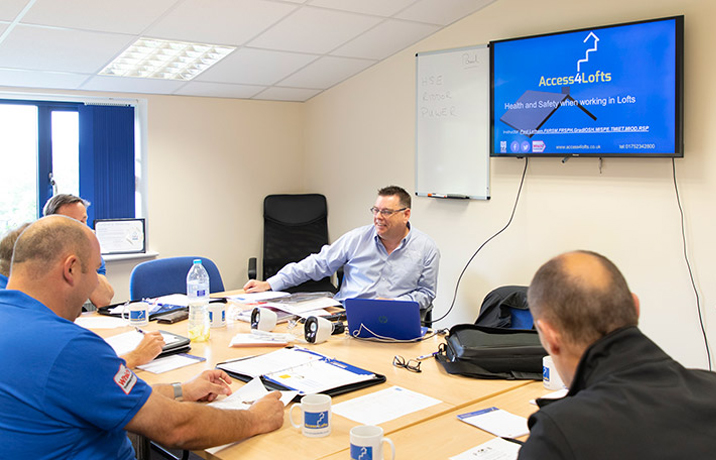 Virtual Tour of the Training Centre