Why Buy An Access4Lofts Franchise?
Having made the decision to work for yourself, be your own boss, and create a new lifestyle, you're not quite sure how. You have a number of choices…
… start up your own business – but with the economic climate still turbulent and lenders more cautious, anyone considering starting a new business needs to have a very robust proposition.
… buy an existing business – this is seen as an attractive option by many as someone else has overcome the initial teething problems and built a customer base – but there still remains the overriding fear that you will be on your own with no one to turn to for support, particularly during the difficult times.
The challenges of starting a business and keeping it going cannot be underestimated and many do fail even in a buoyant economy. The hurdles can be substantial and the ability to get a business up to speed, making profit and supporting you is not achieved by many.
Why buy a franchise?
Thousands of people have used franchising as a way to become their own boss, but under the safety and security of a proven model, with national support structures to help overcome many of the hurdles that can floor a lot of new business start-ups. 90% of new business start ups fail compared to 4% of franchises.
Franchising has attracted much attention over recent years with the tough economic climate having highlighted its strengths and shown that there is a more secure way to start your own business. Its formula of a locally owned and run enterprise, driven by a small business owner, with branding, economies of scale and support from the wider network, gives the consumer the best of both worlds and the business a far better chance of success. However, this is only the case if it is done well.
There are many different businesses now adopting franchising, so you will need to spend a certain amount of time understanding the individual businesses and which one may be best for you. A good franchise will offer you a proven business format with the initial and continuing support that you will need. Your business will work under the brand established by your franchisor using the business system they have developed and proven in the marketplace. You will pay an initial fee to set up using the brand and the proven business format. You will then pay continuing fees for ongoing support that will help you to operate and allow you to build the business and, eventually, a capital asset that you can sell.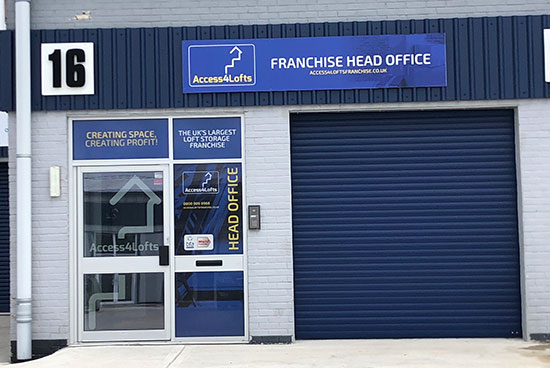 Head and shoulders above the rest
 Having looked closely at several other franchises I knew immediately the Access4Lofts was head and shoulders above the rest. The whole process from initial phone call to securing my territory was relaxed, informative and there was absolutely no high pressure selling. The decision to invest in Access4Lofts was definitely the right one and I would highly recommend this franchise to others.
– Michael (GLASGOW SOUTH FRANCHISEE)